Maintenance: Wednesday January 27, at 11:00 UTC, est: 60 minutes
Applicant Tracking System Free ATS
Get on Board gives you a modern integrated Applicant Tracking System (ATS) to monitor your recruitment, at no additional cost. Get a complete overview of your recruitment pipeline while you get awesome candidates.
Instant free custom careers page
Your company account in Get on Board includes a ready-to-go, easy to customize jobs page, for free. Embed this page into your website by copying and pasting a simple code.
What are the advantages of using the Get on Board careers page?
How can I improve my careers page?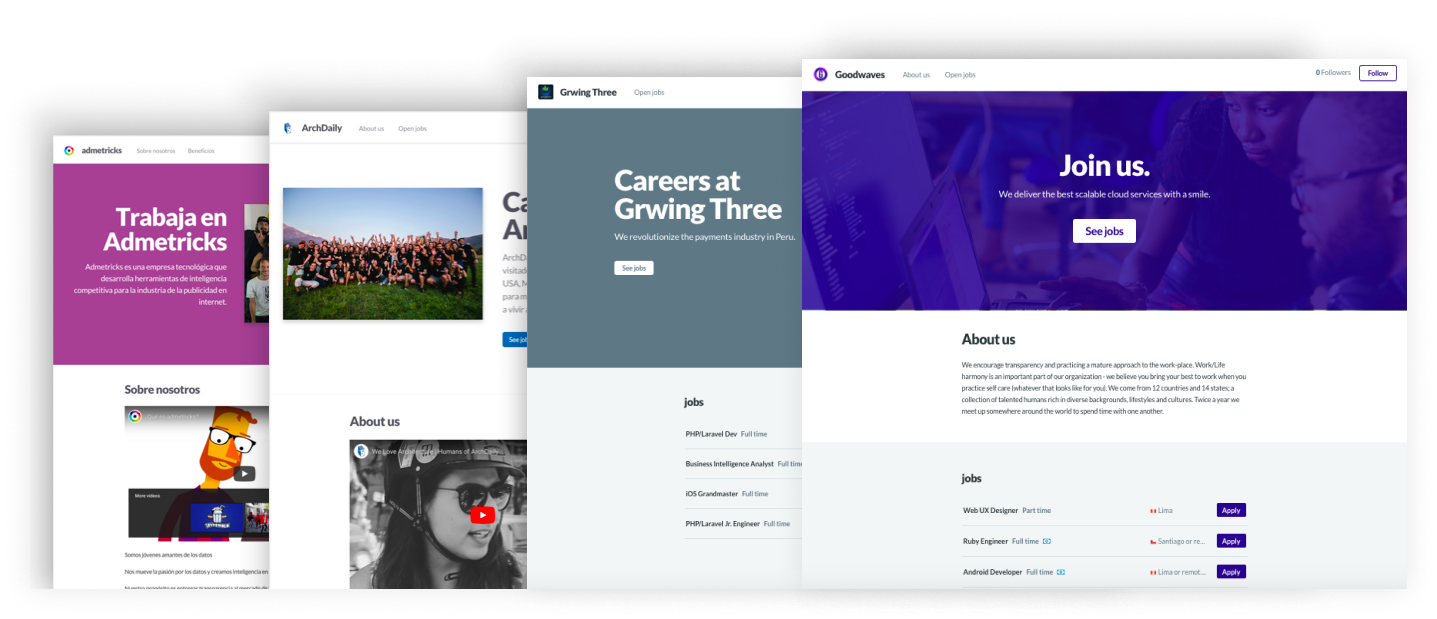 A unified tool for sourcing and tracking
Enjoy a simple and elegant dashboard to monitor your recruitment pipeline as Get on Board brings candidates to your open jobs. Control visibility of your job posts with a single switch.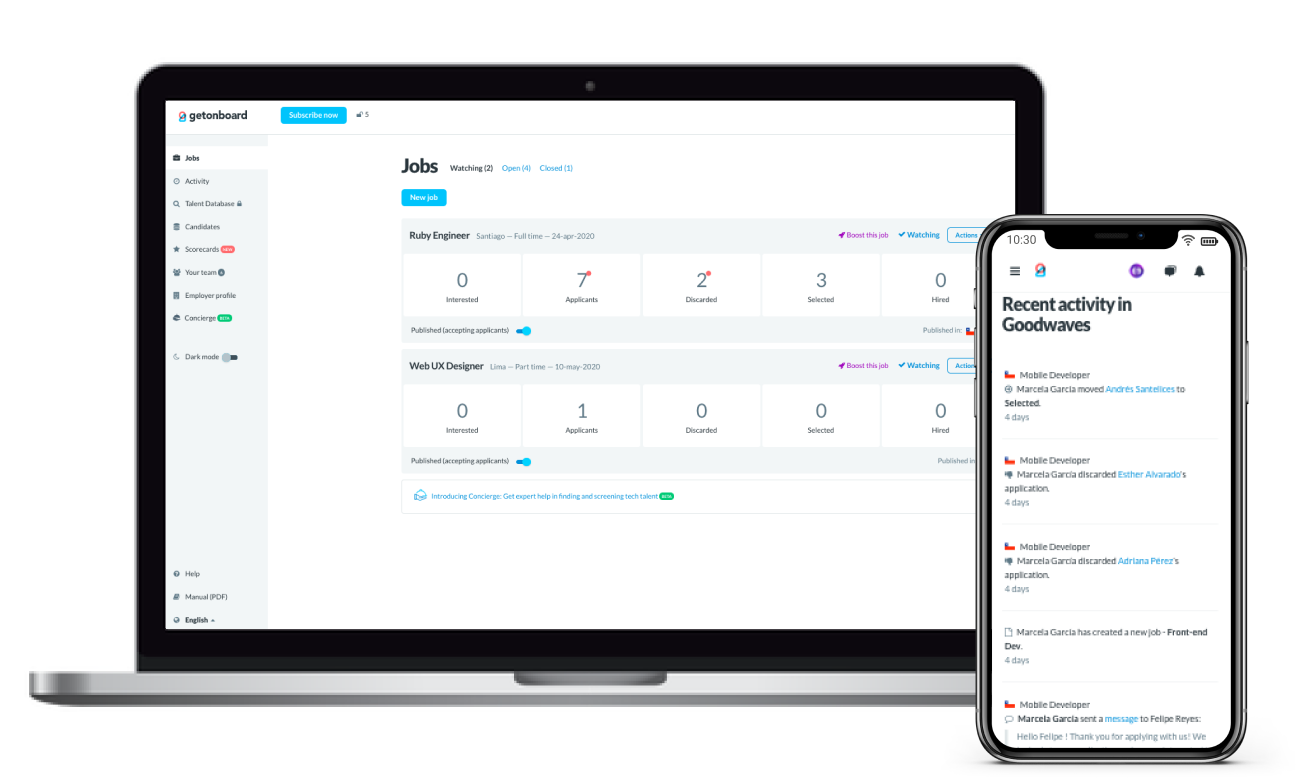 Features to recruit stress-free
Stop using Google Sheets or Airtable for recruiting. Save time and reduce friction with modern tools that give you control over your pipeline.
Customizable job forms
Ask candidates code challenges and multiple choice questions, by creating custom application forms.
Unlimited team members
Bring your whole recruiting team on board. Get on Board allows you to add as many team members or admins as you need, at no extra cost.
What is the difference between user roles in a company account?
External ATS integration
Connect your own ATS (such as Lever) with Get on Board to automatically import candidates and applications.
More efficiency in your recruitment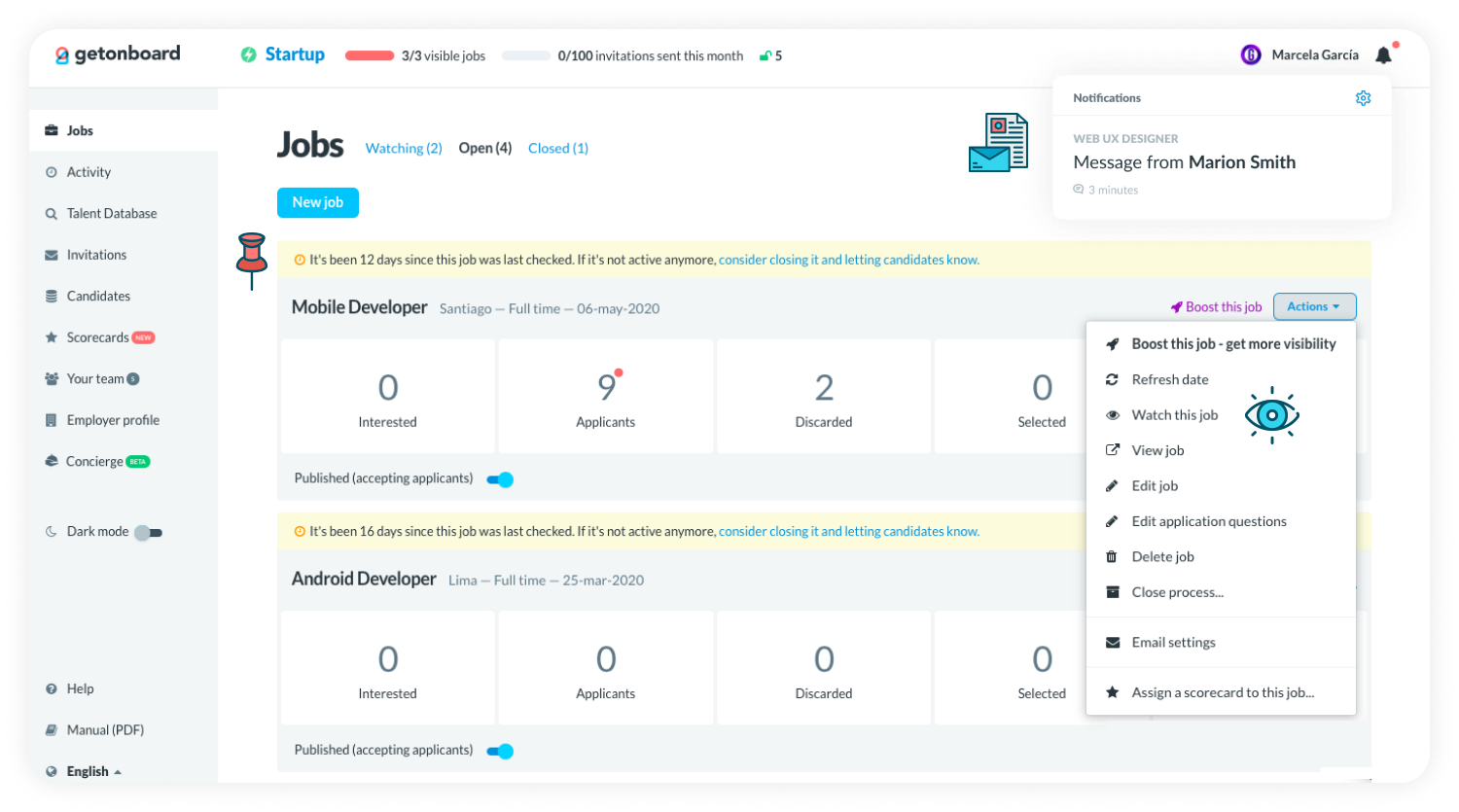 Live Notifications
Stay informed of new postings, messages, and other activity on your account as they happen.
Notification of inactive processes
We notify you if many days have passed without contacting candidates or without reviewing a process.
Watch this job
This option allows you to start receiving notifications and emails of activity in this job (such as new applications or messages sent by candidates).
Integration with Slack
Does your team use Slack? Activate Slack integration to receive real-time notifications of new applicants and team activity in your recruiting processes.
Access the best tech talent database in Latin America
Talent Database is exclusive for subscription plans and allows you to directly invite over 180,000 digital and IT professionals, filtering by competencies such as programming languages, seniority, etc.
Your selection process, in a single view
Applicants on Get on Board arrive directly at a Kanban board, without lifting a finger.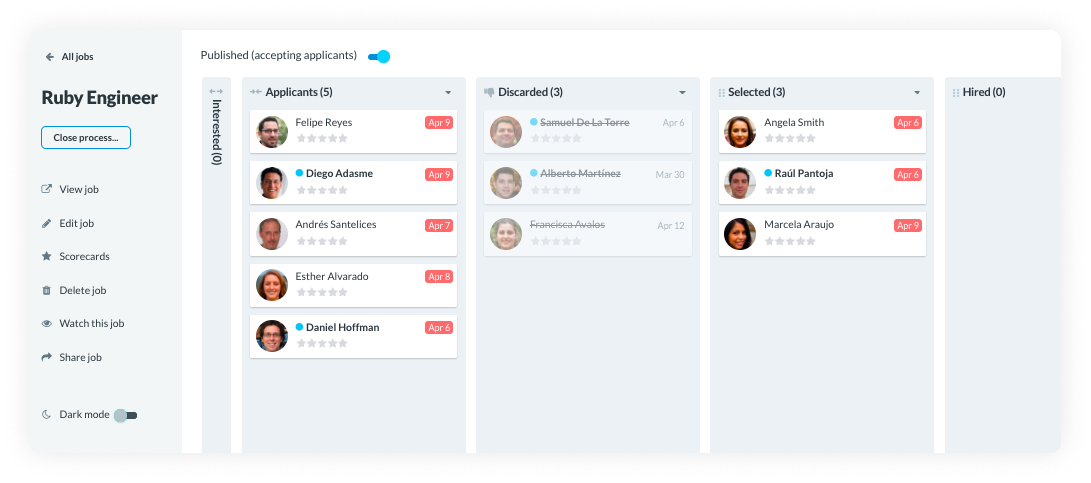 Customize the board to reflect the stages of your selection process. Drag and drop candidates to move them between phases or discard them.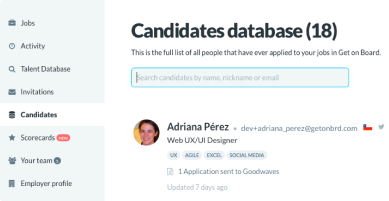 All your candidates, in one place
All the candidates that apply to your jobs on Get on Board are stored in your own Candidate Database.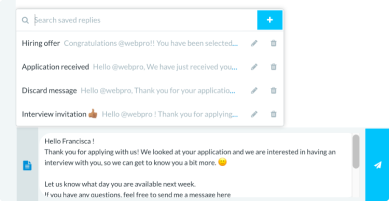 Save time with ready-made answers(*)
Save templates of messages you frequently send to speed up communication with your applicants.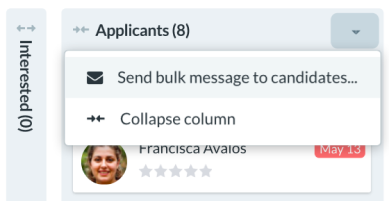 Send bulk messages to applicants(*)
Send bulk messages to all the applicants of a particular phase of your selection process.
(*) Customize your messages using the keywords @webpro and @job to insert the name of the applicant and the job automatically.
Easily manage each candidate's information
On each candidate's card, you'll have all their professional and academic background information.
You can leave private notes to share with the rest of the team.
And use custom Scorecards to assess them.